Newsletter
July 2017
So much happening with the club in full operation – Click HERE
July 8, 2017
For an account of the Grand Opening – Click HERE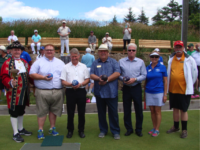 Local dignitaries rolled the first bowls!
May 2017
For the latest on plans for starting up play on the green – Click HERE
Spring Update 2017  –   Click HERE
The Bowling Green Has Been Built!    November 2016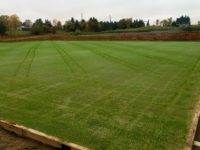 See the fall Newsletter for the progress.
August 2016
Sufficient funds have finally been raised to start green construction at the Highlands Golf Links!
MJC Muskoka began preparing the green August 15th, 2016.  The photo below shows the progress by August 25th.  We expect to seed the green in September.  By as early as July 2017 the grass roots will be established enough that play can begin.